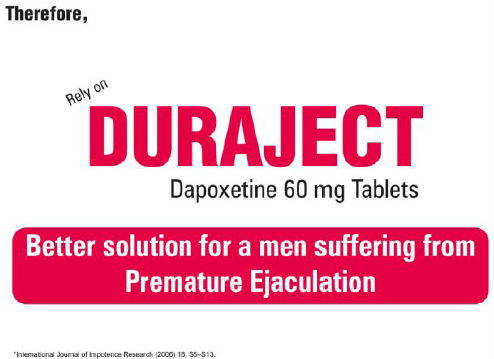 Premature ejaculation is likely the most common sexual dysfunction in men, with a worldwide prevalence of approximately 30%
Therefore, presenting Duraject, a brand of Dapoxetine 60mg tablets.
Dapoxetine is a better solution for a man suffering from Premature Ejaculation, as
• Dapoxetine is a selective serotonin reuptake inhibitor
• Activation of 5-HT receptors delay ejaculation
• Dapoxetine is rapidly absorbed
• Tmax- 1-2 hrs after tablet intake
• Dapoxetine can be taken with or without food
Dosage of Duraject is one tablet, as needed, approximately 1 to 3 hours prior to sexual activity.
So, doctor, in Premature Ejaculation, please prescribe Duraject.